The map below shows the UTSA Area Regional Center Plan boundary and the connectivity throughout the area and beyond.
View Full Size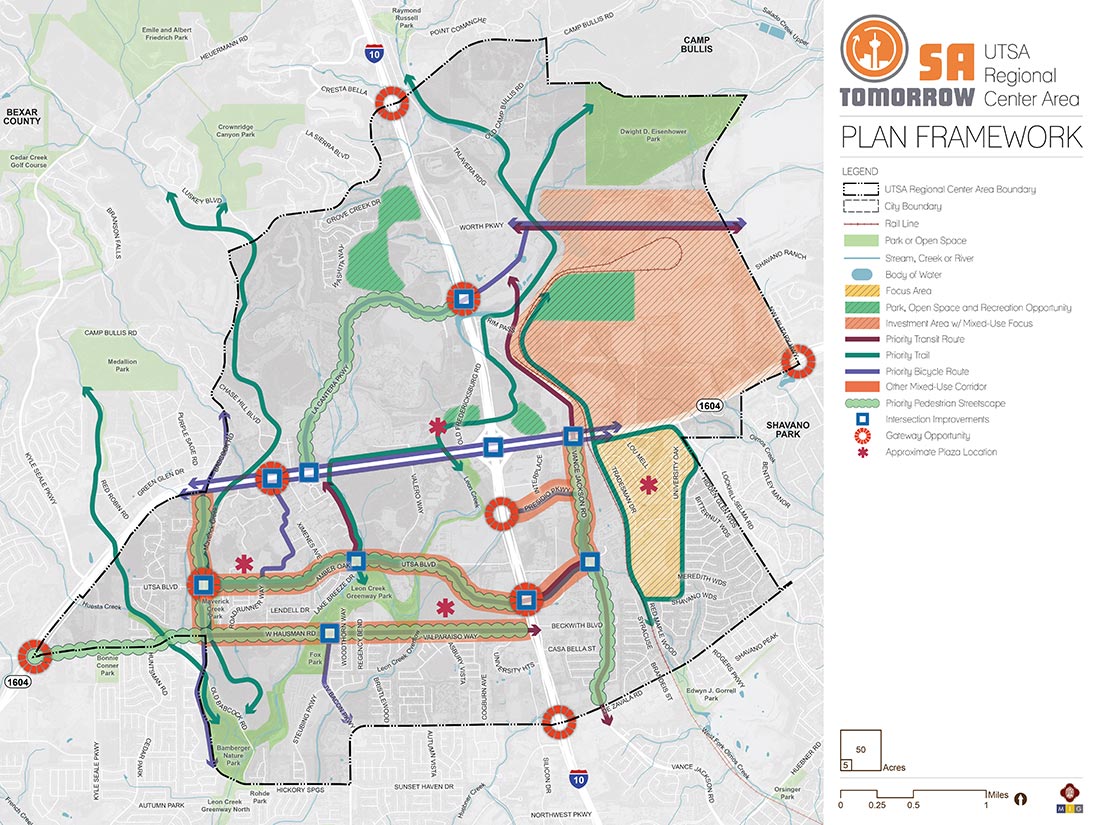 Download
Introduction
What is the neighborhood profile and priorities?
San Antonio is a city of neighborhoods, each with its own unique history, qualities and character. Many neighborhoods throughout the City have developed Neighborhood Plans that reflect local values and priorities. These plans, adopted by the City, have guided local investments and improvements for many years and helped strengthen the relationship between residents and the City.
The City is currently in the process of creating Sub-Area Plans to implement the SA Tomorrow Comprehensive Plan. These Sub-Area Plans are intended to provide a more coordinated, efficient and effective structure for neighborhood planning. The Sub- Area Plans are intended to increase equity citywide, by ensuring that all of San Antonio's neighborhoods have a base level of policy guidance, as many neighborhoods within the City lack an existing Neighborhood Plan or a registered neighborhood organization. In this way, each Sub-Area Plan will integrate key elements of existing Neighborhood Plans for those neighborhoods that have a plan, while promoting citywide policy consistency and providing key recommendations and strategies for those neighborhoods currently lacking that direction.
Typically, the Neighborhood Profile and Priorities section of the Sub-Area Plans is intended to provide special attention to prior neighborhood planning efforts and recognizes the community groups and individuals who were instrumental in their creation. However, the UTSA Area does not encompass any areas that have previous Neighborhood or Community Plans. Therefore, we adjusted our approach for sub-areas that do not have previous neighborhood or community plans and that lack neighborhood association representation.
How was it developed?
At the time the UTSA Area Regional Center Plan was developed, the plan area included over 20 single-family residential subdivisions, a handful of duplex and condo developments, and more than 35 apartment complexes of varying size. But, only seven neighborhood, homeowner, or condo associations within the plan area were registered with the City.
Although all registered associations were invited to participate in the planning process, most were unable to participate directly in the development of the plan. One group that did participate throughout the process was Northside Neighborhoods for Organized Development (NNOD), a broad coalition of neighborhoods that represent groups throughout the north side of San Antonio. Although their membership extends far beyond the UTSA Area plan boundaries, they were able to help summarize strengths, opportunities, challenges, and priorities for neighborhoods and residents across the plan area.
Neighborhood Snapshot
Neighborhood Strengths and Character
Residential areas within the UTSA Area began as large ranches and agricultural uses. As the military, quarries, and employers such as UTSA, Valero, and Six Flags Fiesta Texas moved into the area, more residential development followed. Single-family neighborhoods consisting of large lots began developing in the late 1950s and early 1960s. These developments were far apart, relatively isolated, and rural in character. More conventional subdivisions with medium to larger lot sizes were built throughout the 1970s, 1980s, and 1990s. In the late 1990s, lot sizes began to decrease creating more compact neighborhoods. Multi-family developments in the area have increased significantly since the late 1990s, and continue at a quick pace today. In recent years, a small number of mixed-use projects have been completed that incorporate residential and commercial uses within the same buildings.
Strengths
Established single-family neighborhoods create stability in the area.
The expanding park and Greenway Trail systems provide access to outdoor activities for residents, students, and visitors.
Regional attractions range from entertainment and shopping to education and employment, providing a strong economic foundation for the area.
Neighborhood Opportunities and Challenges
Opportunities
Improving the transportation system to accommodate true multi-modal options, including increasing pedestrian and cyclist safety throughout and between neighborhoods.
Maintaining tree canopy and providing increased tree coverage along pedestrian routes.
Creating more complete neighborhoods that serve all stages of life by providing a variety of housing types and neighborhood services that attract first-time home buyers and allow residents to age in-place.
Protecting the aesthetic of the Hill Country as development increases north along I-10.
Neighborhood Priorities
The feedback received from NNOD was incorporated and summarized into neighborhood priorities.
Priorities
Neighborhood Character
Preserve the character of neighborhoods through the use of buffers, setbacks, and appropriate transitions between different zoning districts.
Environmental Resiliency
Protect the environment by planning for water usage and the impact of stormwater runoff, maintaining and improving the tree canopy, and encouraging private use of renewable energy sources such as residential solar panels.
Housing Choice and Affordability
Provide housing opportunities and affordability through the development of a variety of housing types and increased acceptance of housing assistance programs.
Connected and Safe Transportation System
Improve transportation options for vehicles, cyclists, and pedestrians by facilitating long-term planning and development of transportation systems, including connections to trailways and connectivity across highways.
Neighborhood Representation
Increase neighborhood participation and support a sense of community identity and ownership by empowering residents to create an active organization or association that will advocate for neighborhood interests. The City should support such an effort and recognize these groups for notices and other City business.